Before becoming a mom I loved this hotel, but even more now!
I stayed at The Greenwich Hotel
with my husband and 4 months old babyboy JohnJohn in May 2011. We were welcomed by our very dear and lovely friend Philip Truelove who is the General Manager.
The Greenwich hotel is owned by Robert De Niro and has 88 stylish rooms, some with view of Hudson River others to a cozy inner courtyard. The walls are mainly decorated with Roberto De Niro´s own art. It turns out that he is as great as an artist as an actor! Our room was a quiet room facing the courtyard with a very stylish baby cot where JohnJohn could sleep safe and in same height as me.
There was even a stylish diaper dispenser in the bathroom! The Greenwich Hotel is the first hotel we have stayed at that offers that service,which we highly appreciated!
The Spa, Gym and pool downstairs is a gem to retire in after a busy day in the city and it was wonderful to relax with little JohnJohn in the private lounge (hotel guests only) where we also enjoyed having breakfast and dinner by the fireplace.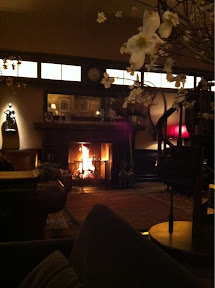 The hotel has a very relaxing and laid back atmosphere, you feel at home right away and so did JohnJohn! The Greenwich Hotel is located in Tribecca surrounded by great restaurants and within 10 minutes walking distance to the famous shopping in SoHo. JohnJohn is looking forward to return!
For more info visit
www.thegreenwichhotel.com
Location:Tribecca NYC